Bridges of Inverness
Ness Viaduct
1989, monolithic beam, railway bridge.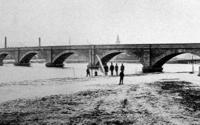 This bridge is the only rail connection to the north of Scotland. The original bridge was a series of five stone arches, built in 1862 by the loser in the competition for building the Ness Bridge.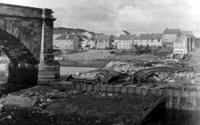 It collapsed during flooding in February 1989. At the time of the collapse, all the locomotives for the northern line were in the Inverness depot. So one locomotive was carried on a flatbed truck over the neighbouring Waterloo Bridge, set on the rails, and resumed partial service.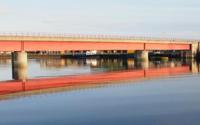 The current steel bridge was prefabricated and erected in great haste to restore full rail service to the North. After crossing the Ness River, the track leads directly to the Clachnaharry Bridge to cross the neighbouring canal before heading North.

Next bridge: Waterloo Road Bridge

Previous bridge: Kessock Road Bridge

Index: Bridges of Inverness

Last modified: 28 September 2003