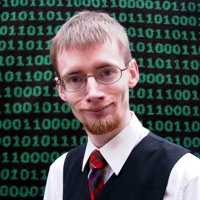 Neil Fraser
I worked for three years as a programmer at Ingenia in Ottawa, Canada. Then I moved to Scotland for seven years where I founded Digital Routes. Now I'm a software engineer at Google in California.
Over the years I've created a mélange of open-source software. I've also built some rather unusual hardware. On rare occasions I've even been known to write something interesting.
Events and Ajax
Sunday, 28 April 2013
Six months ago I created a pair of interactive tutorials that demonstrate how to access and manipulate the DOM from JavaScript. Today I'm releasing a further two tutorials that demonstrate how to use events and asynchronous server requests (Ajax).
Try them out: JavaScript DOM Tutorials
Feedback is welcome. These tutorials form part of a 7-hour class I teach every fortnight to Googlers. More on that later.
---
Older news: No - Yes - Turtle Contest - CS in VN - Archive