Scotland Video
by Neil Fraser, October 2005
Here's a 2m 51s video offering a glimpse of Inverness and Elgin.
---
Background: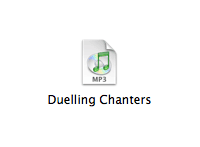 This video was literally built around the soundtrack. Duelling Chanters is a wonderful interplay of two different types of Celtic pipes, playing against each other. For samples from other tracks on the same album, see Amazon's page. My use of this music is not authorised.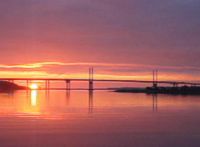 I was very lucky to catch this time-lapse of the sun rising behind the Kessock Bridge. Ten minutes later it started raining. More information and photographs of the Kessock Bridge...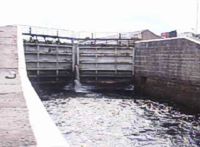 The locks in Inverness form part of the Caledonian Canal, a waterway that runs right across Scotland from coast to coast. The set of locks pictured here are between the sea and Loch Ness. Or in other words, they keep Nessie locked in.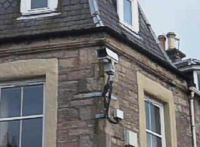 Britain is covered by security cameras. Introduced as a counter-terrorism measure (IRA), they've now spread everywhere. Pan, tilt, zoom, infrared, microphones, even motorised wipers to clear raindrops from the lens. This one is bolted to the side of my house. Britons don't give them much thought, but they certainly creep out everyone else.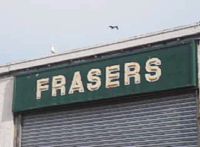 This is Fraser territory. We are everywhere here. One of us has a funny accent which doesn't quite belong.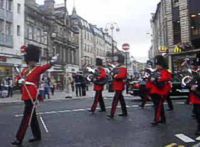 Every year Edinburgh holds its spectacular Edinburgh Tattoo with pipe bands from all over the world. Inverness said "Me too!" and started it's own mini-tattoo. Much fun. The parachutist in the next shot is landing in the parade grounds.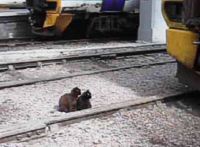 Diesel and Gasket are the two cats who live underneath platform No. 4 in Inverness. They sit at the end of the tracks, watching trains and passengers come and go. Not many people notice them (it took me several years), but apparently they have quite a fan club. Every Christmas the stationmaster gets lots of donations of catfood on their behalf.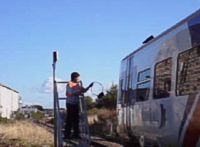 It is single-line tracks from Inverness to Elgin. In order to prevent trains in opposite directions from colliding, a system of tokens has been devised. The driver picks up a token when he departs, and gives it to the controller in Elgin. Without that token, Elgin is unable to raise the signal to allow a train to head for Inverness. An elegant network protocol from the Victorian era. Very effective at preventing packet loss.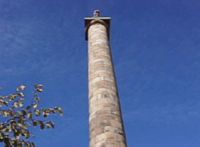 The 5th Duke of Gordon got his statue placed on top of a 24m high pedestal which itself is on a hill overlooking the city. They don't put people on pedestals anymore. Where are today's Nelsons?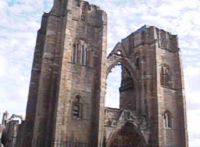 Quick religious history of Scotland: First the catholics built a lot of churches, then protestants (Cromwell) came and tore them down, then the protestants built their own, then the catholics got back in power and tore down the protestant churches, then the catholics built their own, then people stopped going to church. The result is a lot of ruined churches and cathedrals. Many of those that are left are being converted into pubs.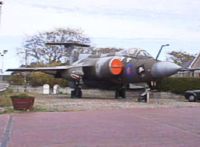 Elgin is right next to RAF Lossiemouth. So the skies are full of large tin cans travelling too fast and too low. One petrol station (gas station) near the edge of town obtained an old Buccaneer which they parked out front. Why use decorate your place with plastic flamingos or garden gnomes when you can use a fighter jet?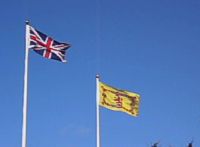 Unlike the USA, and increasingly Canada, there are very few symbols of nationality in the UK. Flags are rare, the national anthem is almost never heard, everything is low-key. But mention the Euro, and you'll get a response.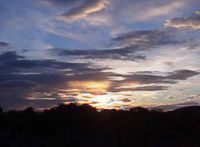 This video was a great deal of fun to plan, shoot and edit. And it paid off in an unexpected way. Right after filming was complete, I happened to be at New Lanark to do some panoramic photography. With several hours to kill between sessions, I threw together an quick video using essentially the same formula. New Lanark liked it, and bought it.

Last modified: 29 October 2005