The one, the only, photograph of Earth
by Neil Fraser, March 2001
"We're not the first to discover this, but we'd like to confirm, from the crew of Apollo 17, that the world is round." -- Eugene Cernan, Commander
Virtually every picture showing the full Earth derives from one photograph taken in 1972. Yet hardly anybody notices this.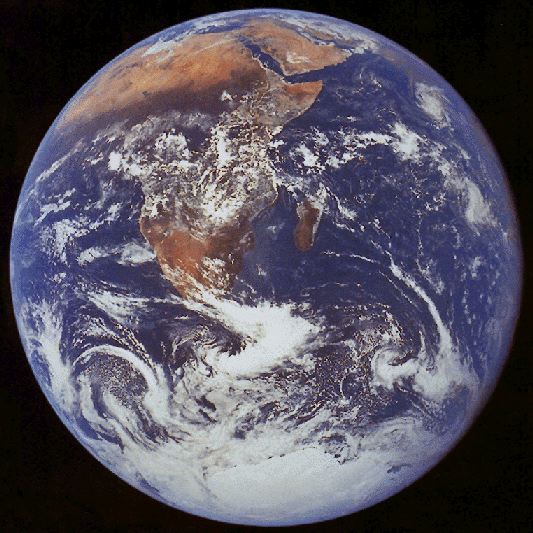 Apollo 17 was NASA's last and most successful manned Moon mission. Within just a few hours of launch the crew were 24,000 km away and could see an entire hemisphere of Earth. The photo they took was labelled AS17-148-22726 and was added to the hundreds of thousands of others in the NASA archives. And there it would have remained, were it not for environmental organisations and famine-relief organisations of the early 1980's. Its prominent depiction of Africa and Antarctica made it perfectly suited as symbols for both causes. Posters started appearing pairing the photo with captions such as "It's the only one we've got".
This initial boost was all that was needed to start a monopoly. From then on, whenever someone was seeking to use a photograph of Earth, naturally it was an example of AS17-148-22726 that one would find first. Television, newspapers, websites, mouse pads and marketing material are all oozing with copies of the photograph. Yet astonishingly few people notice that they are being presented with the same photo over and over.
Other Sources
Looking for photographs of Earth? The best place to look is NASA's Earth from Space or Planetary Photojournal databases. Or if you are impatient, just grab one of the four photos taken by Galileo (1, 2, 3, 4). If you are determined to use the infamous AS17-148-22726 photo, there is the one at the top of this page, or a really big version (1746x1763 pixels, 776k). If Triana is ever launched and starts transmitting a fresh full-Earth photo every 15 minutes, usage of this photo should drop off.
The Gallery
The following examples show how AS17-148-22726 has been used (and abused) over the years.
| | |
| --- | --- |
| | Dmoz category logo. |
| | Download some wallpaper for your desktop from AMD. Available in all your favourite screen resolutions. |
| | Is the U.S. Strategic Command planning to invade Africa? Wouldn't it have been more appropriate to use a photograph of North America for the backdrop of a US military organisation's logo? |
| | Environmental poster. Earth is mirrored left/right which is topologically impossible. The text at the bottom reads, "Believed to be unique, this magnificent dwelling has been sadly neglected in recent years. Some outstanding features have been lost. However it still offers an exceptional home to those prepared to maintain it with care." |
| | Earth Day Network is yet another environmental organisation that uses a mirror image of the Earth photograph. |
| | Is there a rule saying that environmental organisations (such as EcoWorld) are required to use the mirror image of the photo? |
| | Apple thinks that there are a couple of Internet backbone hubs in Antarctica. Presumably the penguins run Linux. |
| | Apparently someone at Protac really likes this photo; they use it all over their site. This is also the first time I've ever seen someone page-curl a planet! |
| | Hargreaves Lansdown publishes a newspaper called the Investment Times. The editorial on the front page was long, dry and boring. So they inserted a pretty (but completely unrelated) photo to make it look nicer. |
| | The 1995 film Apollo 13 used this photograph of Earth so many times I lost count. Every time the crew looked out the window, there was Africa and Antarctica. Obviously Earth doesn't spin in this movie. Instead of using a photograph taken on Apollo 17, why couldn't they have used one of the photographs actually taken on Apollo 13? |
| | Here is the setup wizard for sharing an Internet connection using Microsoft's Windows 98. The sidebar features an edited version of the photo which has been mirrored vertically, resulting in an impossible topology. |
| | CORE uses our planet as a letter 'O'. |
| | Scientific American needed a photo to help with their planetary dissection. |
| | Talicom's superb (but sadly abandoned) HTML Power Tools features this collage on their application's splash page. |
| | I have visited Fort William, but I don't remember seeing Earth rising above the mountains. What planet do they think they're on? |
| | SimEarth is a computer game from 1993. It contains a cartoon of Earth which tells you how well (or badly) you are doing. An examination of the land masses and the cloud patterns shows that this cartoon is drawn directly from the Apollo 17 photograph. |
| | SECUREDox found the African deserts depressing, so transformed them into lush green forests. |
| | Several editions of Eon by Greg Bear use the Earth photo on the front cover. |
| | According to this book, Nostradamus predicted that we'd all be dead by now. Oh, that explains it, he was living on the mirror-image Earth. |
| | This page has won the Golden Web Award! |

Special thanks to Michael Leslie, Cameron Morland, Tommy MacDonald, Mathieu Fenniak and Bruce Shairp for submitting instances of AS17-148-22726. Google has hundreds more examples, just do an image search for "earth".
Daniel Lotspeich points out the existance of AS17-148-22727. It seems that this is a virtual twin of AS17-148-22726, taken a few seconds later.
Last modified: 7 November 2005