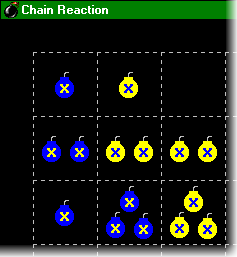 Chain Reaction
Chain Reaction is a strategy game. Two players (one of whom may be played by the computer) take turns placing bombs on the playing field. Heavy concentrations of bombs explode, potentially starting a chain reaction in neighbouring squares. The player who blows up all of his/her enemy's bombs first is the winner.



vb-chain.zip
(240KB)
A similar version written in Visual Basic 3.
Executes in Windows 3.1, 95, 98, ME, NT, 2000, XP, etc.
Includes full source code under the GPL license.
---
Other versions
It seems that Chain Reaction was a rather popular game back in the early days of computing (Commodore 64, Amstrad, BBC micro, etc). I am not alone in reimplementing the game. Here are some other people's versions:
Solid game with excellent AI and network play support. Uses nested squares to represent each cell's loading.
Two-player game only. But with a download of less than 21k, that's not bad!
Shareware version has decent AI and network play support. InfoTech do not appear to exist anymore.

Last modified: 27 February 2021