San Francisco Wedding
14 May 2014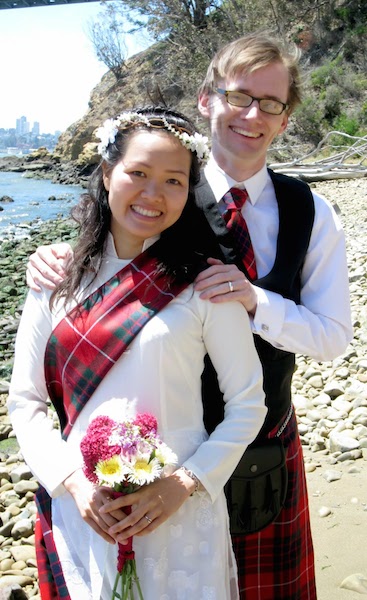 More than a year after proposing, Quynh Neutron and I got married. This past Saturday we kayaked across San Francisco Bay to a hidden beach on Yerba Buena Island. I've spent three years cleaning this beach, turning it into a beautiful location. There, in the company of friends, we exchanged vows and rings. In a nice blending of cultures, Quynh wore her traditional Vietnamese áo dài while I wore my Fraser kilt.
We timed the wedding to coincide with a half moon. This meant that the sun and moon were at right angles to each other, and thus the tides were at their weakest.[?] Neither Quynh nor I particularly wanted a repeat of our fourth date where our kayak was swept away by a Spring Tide. Nonetheless, the event was not without challenges; a big-shout out to Ted of City Kayak for going above and beyond when wind conditions became problematic and we needed to improvise.
See our wedding day photos to follow the adventure.
Next week we head up to Canada for our second wedding.